Areas We Service
Note: We require 1 or more days notice for scheduled oil deliveries during the heating season to get the discounted price - Same day delivery during the heating season will incure a same day delivery fee.
We provide service to the following towns :
Andover, Ashford, Bloomfield, Bolton, Colchester, Columbia, Coventry, E Granby, E Hampton, E Hartford, E Windsor, Ellington, Enfield, Farmington, Glastonbury, Granby, Hebron/Amston, Lebanon, Manchester, Mansfield/Storrs, Marlborough, Newington, Rocky Hill, Somers, South Windsor, Stafford/Stafford Springs, Suffield, Tolland, Vernon/Rockville, W Hartford, Wethersfield, Willington, Windsor, Windsor Locks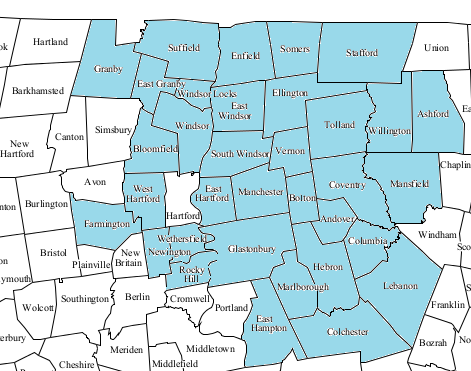 *During Summer Hours deliveries will be done to different towns on different days. Please See Map for Delivery Days.
Burner Service
24 Hour Burner Service Available during the heating season as well as Oil Burner Service Contracts.